So much of my trip to Tanzania was stepping "outside my box" for me.  Although I've traveled extensively for business and fun and to many countries, this was my first trip to Africa and my first leisure trip where I wasn't intimately involved in all the planning.  I tagged on to the trip with a small group of now ex-friends (just kidding, still great friends!) and most of the planning was already done.  When we arrived in Tanzania, Protus and TROAA team were there to greet us and take care of everything.  Even though all was already well planned, Protus and our great guide were always checking with us to make sure we were doing and seeing what we wanted.  They offered suggestions and adjusted the trip when possible to work well for everyone.  Any details, including making sure food allergies were accommodated, were no problem for the crack TROAA team.  And we had a million laughs!  The food was plentiful and great, and even though I passed on the grilled bird in the bushman camp, I was able to get a very good milk stout later on!  The animals on safari were incredibly spectacular to see and the cultural experiences visiting the villages and taking part in different little rituals was fun, very unique, and humor and smiles always seemed to be reciprocated.  At the same time, these visits offered a deep appreciation for the life, challenges, and happiness of the Tanzanian people.  Protus's younger life growing up in Tanzania but now living and raising a family in the U.S., allowed him the ability to bridge and explain the cultural and historical differences which we experienced while there.  TROAA is a fantastic guide service for a trip to truly experience Tanzania, the animal life, and the people.
Bernard H.
********************************************************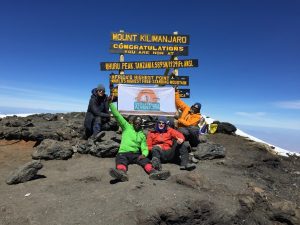 I had such an amazing time in Tanzania with The Roof of Africa Adventures. They organized a fantastic trip.  The hike up Kilimanjaro was the kind of trip that made an impact on me that will last a lifetime. The hike was beautiful and our guides and porters were so friendly and fun, and also so dedicated and hard-working. I learned that Roof of Africa is unique among guide services because they actually make sure that their guides and porters get paid fairly, which is something I really appreciate.
Our safari was also so much fun— Africa truly has some of the most magnificent flora and fauna in the world. And our safari guide was fantastic— very fun, and very knowledgeable. We also went on a cultural tour and got to hang out with some tribes that practice traditional methods of hunting, making fire, and crafting jewelry— such a unique and fascinating experience.
I'm also so glad that Protus, the founder of The Roof of Africa Adventures got to travel with us.  Wonderfully patient, passionate, and a joy to hang out with, he organized a great trip that catered to the needs of my whole family. It also really makes a difference that Protus grew up in Tanzania and now lives in the US. Having someone lead our trip who is so familiar with both Tanzanian and American cultures really made a difference. Overall, I will remember this trip for the rest of my life and I expect it to inspire many more travels and hikes in the future.
Lucas W.
********************************************************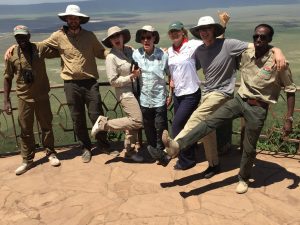 BEST TRIP EVER!!!
This was my first time going to Tanzania and my first time going to Africa…..plus I was bring my whole family.
Needless to say I had some anxiety before departing for such a big trip, but from the moment we arrived at the airport in Tanzania Protus and his team made us feel at ease and totally taken care of.  And most importantly we had a lot fun and laughs all along the way!
Our trip was a pretty dynamic one that included: climbing Kilimanjaro with my son Lucas for 7 days, meeting up with the rest of my family and a friend afterward to go on an amazing 3 day Safari, plus a one day cultural day where we hung out with bushman that spoke in a language that uses clicks…… and then ending this incredible adventure in Zanzibar on the beaches of the Indian Ocean.   Still can't believe we did all this!  As you can imagine  there were a lot of moving parts, all of which were handled with the ease and savvy that only a very experienced native of Tanzania like Protus and TROAA could pull off.  For years my wife Alisa used to say she would never go to Africa…..now she says she wants to go back.  We were also very impressed how well we ate at every place we stayed.  What an amazing adventure!!  Can't wait to go back!!
John Wager Saratoga Spring
********************************************************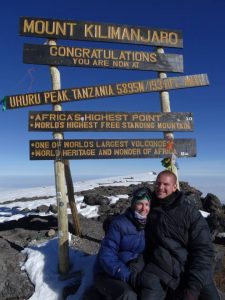 What an adventure! Traveling to Tanzania and summiting Mt. Kilimanjaro with The Roof of Africa Adventures was a very special experience thanks to Protus and his team. From the moment we landed in Arusha to reaching the very top of Kili, I felt safe and cared for. Protus and his team welcomed us with open arms, eager to share the beauty and magic of Tanzania. The equipment, food, lodging arrangements, and knowledge of the course was impressive. I am so grateful for the many wonderful people we met along the way who supported us during the trek and made it possible to reach the top. I know our 100% success rate and everlasting memories are due The Roof of Africa Adventures Team! Thank you for everything!
Megan D.
********************************************************
Protus Mayunga and the entire TROAA team are among the nicest and most knowledgeable people I have met, anywhere. Our team's guided hike of Mt. Kilimanjaro was breathtaking, eye opening, humbling, and immensely rewarding. The TROAA guide and porter team are simply the best you can ask for and will do everything in their power to get you and your teammates to the true Roof of Africa. The Safaris and other guided tours of Arusha and surrounding areas were icing on the cake. I really cannot speak highly enough about this crew and the work they put in to making your adventure the adventure of a lifetime. Thanks for everything, truly.
–Sean Sharp, MBA, SUNY Oswego Graduate 2013, Member 2013 Oswego Going Global Team
*********************************************************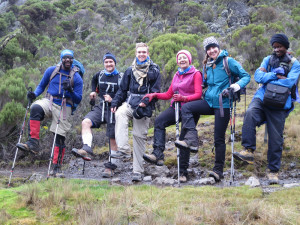 On January 3, 2013 my life, along with that of 11 other SUNY Oswego students/faculty changed forever.
I can't even begin to describe how this experience affected my life and how grateful I am to Protus Mayunga and the entire "The Roof of Africa Adventures" (TROAA) team.
I am a senior at SUNY Oswego in Oswego, NY and in the fall of 2012 I signed up for a class that offered an amazing opportunity to travel overseas to Tanzania, Africa and climb Kilimanjaro. I signed up for the class not knowing my fellow climbers and stepping far out of my comfort zone. I love to be active and I love the outdoors, but climbing mountains is something I've never done before. I thought, "Why Not!" And I haven't regretted my decision for one moment.
I am a dual major studying Creative Writing and Cinema Screen Studies, and for my senior piece I decided that I would take advantage of this amazing opportunity and document the climb in journals and on film. Protus and his team helped to make the experience so welcoming and enjoyable, with constant singing and dancing not only at the camps but along the trails as well. The entire team was very approachable as well. Not one person stayed shy for long as language barriers were crossed and smiles helping to communicate lasting friendships. One of my favorite experiences was communicating with one of the guides, Alex, in not only English, but in Swahili and Spanish as well. The food was great, the company was unforgettable, the views were absolutely breathtaking, and the experience as a whole was absolutely incredible!
Without the continuous support and encouragement from Protus and his team, my documentary would not be where it is today. (still a work-in-progress but continuous updates are available on my website at: http://maryyg470.wixsite.com/capture-it/168-hours-on-kilimanjaro   Please take a moment and view the early trailer in 1.Gallery on my website. The trailer introduces my fellow Oswego teammates and the fabulous footage I captured on Kilimanjaro.
If you're going to climb Kilimanjaro, there is no better team to recommend than The Roof of Africa Adventures.
Yours Truly, Mary Gleason
*********************************************************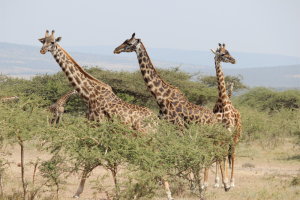 My wife, Nancy, and I had a most wonderful travel/safari experience under the care of The Roof of Africa Adventures the last week of April, 2012. We arrived in Arusha,Tanzania, at night, after a long five hour bus trip from Nairobi. We remember how warmly two members of The Roof of Africa Adventures (TROAA) staff, Bruno and Geoffrey, greeted us. We were made to feel that everything about our trip had been well planned and taken care of and that our only job was to relax, enjoy our vacation and to let them take care of the rest. Our trust in them was not misplaced.
We had asked Protus Mayunga to suggest a one week trip for us and we accepted his recommendations which proved to be just right. Highlights of the trip were our visits to the Serengeti and Ngorongoro Crater where we had most excellent accommodations. Nancy remembers with excitement arriving at our lodge in the Serengeti and seeing giraffes not 50 feet away outside our window. It was very exciting.
The two TROAA staff mentioned earlier, Bruno and Geoffrey, were with us the whole time. We enjoyed their knowledge of the places we visited and the wildlife we saw, their relaxed and friendly relationship with each other, and their concern for our comfort and safety. We also enjoyed their patience with us as we sought to brush up on our Swahili.
We are very pleased with our trip and our experience with TROAA and we would commend this organization to others.
Sincerely,
Arthur M. Larrabee
*********************************************************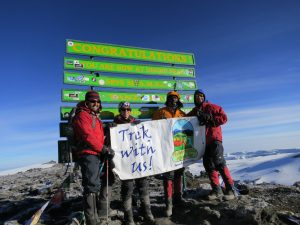 *********************************************************
Adventures to fill a life. That's really what I was looking for. It was time to start filling up my life with the adventures that I always hoped to do. Protus and The Roof of Africa Adventures more than managed to get me on track. Everything was taken care of thoughtfully and precisely. He and his team made sure we were well prepared ahead of the trip, double checked that we were ready at the start of the trip, and took care of everything we could have needed during the trip. It was exhilarating from the first step up Kilimanjaro to the last push at the peak of the ridge. It was breathtaking to be on safari with such amazing, beautiful wild animals. We could marvel up close at the majesty of the natural world. My imagination of how the trip would unfold was limited by never experiencing such a magical place with such a wonderful and skilled leader. Protus and The Roof of Africa Adventures became the foundation of my new life of adventure.
Dave O'Keeffe
*********************************************************
Our recent trip to Africa to climb Mt. Kilimanjaro was the most amazing experience of my life hands down. I have never had an opportunity to see such breathtaking views and accomplish something so incredible! I know that a huge part of the success of our trip was going with TROAA – every second of that trip from start to finish was made by the warmness and compassion of our guides, porters, and now new friends. I truly think that getting to experience this trek with Protus, a native Tanzanian, we were able to get a better insight into the culture and were able to form more truthful and lasting relationships with the rest of our TROAA family. In talking with others that have done this trek, I can safely say that our experience was more genuine and insightful than others because of our guide and his knowledge and compassion for his culture. We
were able to converse with the porters and learn about their lives, see how truly incredible Africa is, and also build a new understanding and respect for a place previously unknown to us!
I am so grateful we were able to do this trip with Protus and TROAA – the climb, the safari, and the overall experience, changed my life for the better and no amount of words can truly express that gratitude! Thanks Protus and TROAA for keeping us safe, entertained, and successfully getting us to our Uhuru goal!!
– Kate Poppenberg
*********************************************************
Protus,
Without a doubt, the trip will be stamped in my brain forever
The trip for me was distinctly 3 segments The Kili climb, the Safari, and the School, and town visit
You and your organization did a superb job in all 3 phases the accommodations were great the Safari was very relaxing and most interesting
the visit to the school although not on the itinerary was eye-opening I think you should include something similar on each trip for your clients especially for the college kids It makes an impression that I think will benefit all of us from the USA
All of your "helpers" were very customer focused Alex. Lucas, Geoffrey, a very helpful, informative and just nice people to be around
All the best to you and your family.
Pete Keller
*********************************************************
Dear Protus, it was a tough yet rewarding trip. The safari was a fantastic way to treat ourselves after the climb. Your staff made the trip manageable from all aspects. You really cared about us personally; you were like a friend not an outfitter. The climb was a demanding physically and mentally but your guides friendly encouragement got us to our goal. It was fun! I would recommend your services to any potential climbers unequivocally.
Tom and Taylor Tobias.
*********************************************************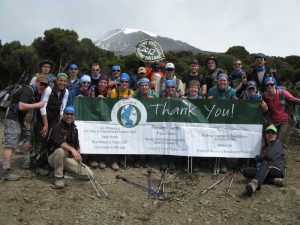 When, over a year ago, I started to plan for "Together We go: Climbing Kilimanjaro" program at SUNY Oswego, my biggest challenge was finding a guide company that could manage a large team (25 members) and provide reasonable prices, a flexible itinerary and opportunities for cultural experiences. Based on my email exchanges and numerous phone conversations and of course our actual hiking experiences (on Giant and Slide mountain), I was confident that, with Mr. Protus Mayunga's leadership, TROAA was the best choice for us. Yet Protus delivered services well above and beyond my already high expectations. The entire trip was amazingly well thought out and organized. Because of his passionate, caring, friendly personality (added to his long career as guide) and a crew of very capable, well-prepared and friendly people by our side following his lead , reaching Uhuru Peak became a life long memorable accomplishment for 100% of our group. Amazing success! In addition, the cultural events he planned for us (e.g. choice of lodge, singing and dancing / bonding ceremonies with the crew, visiting elementary school and Masai village, visiting local markets and Safari) gave each of us experiences and exposure to Tanzanian culture that we cannot stop talking about. For 2013 trip I don't need to look any further, Mr. Protus Mayunga and TROAA will be our partner. "
Dr. Mehran Nojan, Co-founder of Oswego Going Global and Co-Leader of "Together We go: Climbing Kilimanjaro"
*********************************************************
Protus went above and beyond to make us feel at home in his country. His crew was extremely encouraging the whole way up the mountain and without their support and help I would not have been able to make it up to the summit. I couldn't have asked for a better guide and crew to climb Mount Kilimanjaro with.
"Stefanie Cornell, SUNY Oswego Student, Member of 2012 Climbing Kilimanjaro
*********************************************************
Protus was able to make everyone feel comfortable and went the extra distance to make personally sure each of us were doing okay. He made you feel like you were a part of his family. His crew truly cared about how we were doing and met you with a smile every day. There is no way any of us could of made it up the mountain without Protus leading the way with The Roof of Africa Adventures crew right behind him.
Nicholas Hackenfort, SUNY Oswego Student, Member of 2012 Climbing
*********************************************************
It is nearly impossible to explain or describe the experience of climbing Kilimanjaro and going on an adventure through Tanzania. It is one of the most euphoric, fulfilling and amazing experiences I think a human being can have. Aside from the physical training and gear preparation there are a few essentials, in my personal opinion, to maximize one's endeavor. First and foremost, mental and emotional preparation. The trek takes a lot of mental and emotional strength– so in addition to a vigorous workout plan, preparing oneself for the roller coaster of emotional and mental taxation is very important. Another vital component is having an apt and able guide with experience, knowledge, compassion and personality.
It's a tall order to try to find a climbing guide and a team that can make an 8 day climb in extreme conditions enjoyable and beyond amazing but lucky for perspective climbers there is Protus Mayunga and The Roof of Africa Adventures. Capable, caring and encouraging are just the first few of many positive adjectives that describe Protus and TROAA team. Any adventure or climb I go on in the future (which I hope there will be many) I would be honored, privileged and thankful to have Protus leading the way.
Leila Karkia, Co-founder of Oswego Going Global, Member of 2012 Climbing Kilimanjaro Team
*********************************************************
If anyone is ever thinking about visiting Tanzania, climbing Mt. Kilimanjaro, a SAFARI or doing anything in AFRICA, or elsewhere in the world for that matter, PLEASE go with no other than Mr. Protus Mayunga and his company !"The Roof of Africa Adventures." He and his crew are undoubtedly a cut above the rest in every way imaginable. Protus is a true professional and amazing person, with a gold heart of a lion and his crew follows his lead . Case and point, he and his impeccably prepared crew brought 23 out of 23 of us, from SUNY Oswego, successfully to Uhuru Peak…. !that's 100% success rate in less time than originally anticipated. I'd also like to say that Protus and his crew make you feel so welcome, you'll feel like you never left your family, b/c they become your lifelong family and friends, which truly made my experience special and unforgettable. !Thank you from the bottom of my heart Protus and TROAA!"
Ryan Lemon, SUNY Oswego International Program Specialist, Member of 2012 Climbing Kilimanjaro Team
*********************************************************
Protus and his crew were really an incredible group. There is no way that any of us would have made it up if it wasn't for everyone Protus assembled. I think the best part of my trip was meeting the people that helped me up the mountain and interacting with them. I can't really say enough about the experience that Protus provided for all of us in the OGG crew, but I think everyone will agree that it was awesome."
Fabio Rito, SUNY Oswego Student, Member of 2012 Climbing Kilimanjaro
*********************************************************
Our climb up Kilimanjaro was AMAZING! An adventure of a lifetime. Summit day was tough. I took 5 steps forward & then I had to rest- truly a humbling, rewarding experience. I have no regrets and LOVED every second of the trip. When I'm asked the question what was the favorite part of my trip my response is "the people." My fellow OGG climbers and the guides, porters and staff from Roof of Africa Adventures were wonderful. I feel like we've become a family."
Katie Loiacono Maxwell, SUNY Oswego Alumni (1977) and Sr. Assistant Director of Admissions, Member of 2012 Climbing Kilimanjaro
*********************************************************
Protus was the critical component to the success of this experience. Without Protus I do not think we would have had a 100%success rate for reaching Uhuru peak. We all became relatively close with our porters, we were fed 3 meals a day, and all of the guides constantly made sure everyone was doing okay. Above all everyone was really friendly and went out of their way to make sure we had a great time. It was very clear that Protus' crew was a cut above the rest. We even danced and sang songs with them! After the trek Protus also took us to a school where we were able to donate school supplies and candy to school children. After that, he took us to a Masai village! The experiences there blew my mind and are unforgettable. If you're planning on climbing Kilimanjaro, I can't recommend Protus enough. He is an amazing, amazing person.
Anthony Catalino, SUNY Oswego Student, Member of 2012 Climbing Kilimanjaro
*********************************************************
What a fantastic adventure I enjoyed in Tanzania this past January 2012 with the Oswego Going Global group. Protus, your family owned company, The Roof of Africa Adventures, provided us with such a great experience that I can't thank you enough. Our group of 23 was a large undertaking but you and your team of guides and porters handled it with ease. The friendship that was shared between the OGG team and you and your staff gave us a greater understanding of the wonderful culture and people of Tanzania. Thank you for an incredible experience and the memories that will last a lifetime.
Steve Baker, SUNY Oswego Student and Staff, Member of 2012 Climbing Kilimanjaro Team
*********************************************************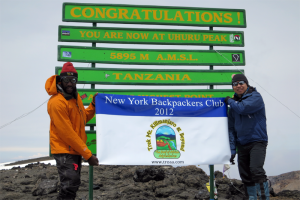 Dan Zhu, Mt. Kilimanjaro & Safari ( New York Backpackers Club 2012)
Wow, let see. If I could give this a 6 stars, I would. Food was great, services were great. Had a great time climbing Kili and on the Safaris. Protus and assistant guide Alex really took good care of me and our cook Bruno was fantastic. Lived in a real African village, and Protus and friends showed me around town and experienced the real Africa, that includes visiting both high end and dodgy places in one night, eating traditional African food using hands, and on and off electricity, and so many other things. I missed the chance to visit Zanzibar but there is always a next time.
TROAA: Did we help you in advance, to plan a trip that you felt was exciting and affordable?
Dan: Protus and team were very helpful in helping me in preparing for the trip. We went out to do training hikes in the Catskills together prior to the trip and they also gave me tips on what to bring for the trip. The price is very affordable comparing to other outfitters, with some charging 2-3 times as much. I felt the service Protus and team provided is excellent.
TROAA: Were our guides and porters there to meet you upon your arrival in Tanzania?
Dan: Yes, I arrived at Tanzania via bus from Kenya and Protus and the driver were there waiting for me at the bus station. He gave me his number beforehand so I could call him anytime if there is a problem.
TROAA: Was there any problem connecting with them?
Dan: No, I called Protus once when I was in Kenya and he picked up right away.
TROAA: Was the transportation comfortable?
Dan: On the Kilimanjaro trip, we were transported to the park and back in a Toyota van. I felt that it was fine. On the Safari trip, we were traveling in a Toyota Land Cruiser, it was comfortable consider it is an off-road vehicle.
TROAA: Were you accommodations suitable and in accord with the budget that you and Protus decided on?
Dan: Yes, I was living in a village hut near the outskirt of town and it was comparable to 3 star hotel room. You get to experience the real Africa that way. The price was very reasonable and everyone in the lodge was very friendly. If 5 stars living is your thing, you may want to stay in one of the hotels in town.
TROAA: If you spent time off of Kilimanjaro and Safari with us, did you have a pleasant experience where you went and with our guides?
Dan: Protus and friends showed me around town one night and we went to this local pub afterward. We had traditional African food and had a blast.
TROAA: During your climb, how was the food service on the mountain?
Dan: Excellent! I could never imagine how good camping food can be. Bruno is a fantastic cook, the soups that he makes are delicious.
TROAA: Did you find your tent and sleeping equipment comfortable, clean and ready for your use?
Dan: Yes, my tent was a roomy 2 person tent and I had it all to myself. It was a newer tent and I didn't have any problem with it.
TROAA: Did you feel comfortable and safe following the recommendations of your guide during the climb?
Dan: Yes, Alex and Protus are excellent guides. At one point they strongly encouraged me to take the diamox pills because I wasn't feeling well at 12,000 feet'. I thank them for it because if I hadn't taken those pills then, I don't know if I would've made it to the top.
***********************************************************************************************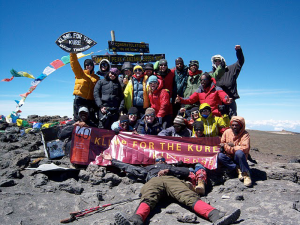 Hi Protus, we had the most amazing experience with you and the crew you put together for our climb. Some days it's hard to believe it really
happened. !The fact that you are Tanzanian and used to be a porter made the trip very meaningful. We appreciated that you could communicate
to all the guys what the trip was about. It's really hard to describe, but you were there, so you know. Thank you for an amazing trip!!
LIZ WEBER! ( KLIMB FOR THE KURE )
Recent Posts
Categories
Check out our Instagram Page at troaa_adventures for recent photos!😎 ... See MoreSee Less
3 weeks ago ·
6 years ago today, SUNY Oswego's Going Global group was heading home after a successful summit with 23 students and faculty and some other adventures post-Kilimanjaro! Each day we were waiting for news of the baby waiting to be born back home and on this day she arrived! - Happy 6th birthday to Sabina! What other adventures have you been up to Oswego Going Global Mehran Nojan? ... See MoreSee Less
3 months ago ·