Transportation on Safari
Enjoy a traditional African safari with us in the luxury and comfort of open-roofed Toyota Land Cruisers with broad viewing windows. Enjoy shade from the raised roofs while having unobstructed photographic opportunities. You will be accompanied by knowledgeable and charming guides who will ensure you get a good view of the amazing and unique wildlife that coexist on the plains, lakes and gorges of the parks. You will be amazed at their sense of where the action is and their ability to spot animals in this vast open landscape.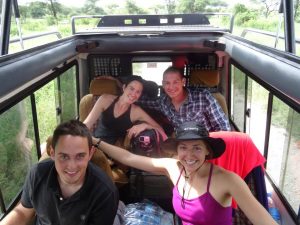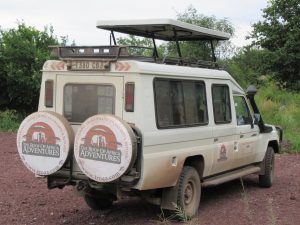 Safari Lodging
Lodging choices on safari can be an exciting way to enhance your trip.
Whether you choose an indoor lodge or to camp, you will find that lodging is not just a place to sleep between forays into the wilds of the parks. Rather, lodging is an opportunity in itself to experience the cultural distinctions that makes Tanzania such a welcoming and friendly destination. You will gather with adventurers from around the world and make new friends as your hosts go the distance to make your stay extraordinary.
Lodge Safari
If you'd like retire to the indoors at the end of the day, we will accommodate you in the wonderful lodges that are on your safari route, both within the park boundaries and those outside according to your itinerary. Enjoy scenic and relaxing patio style seating areas and rooms decorated in authentic Tanzanian style. Get to know the hosts of our favorite inns, always happy to accommodate you in the best Tanzanian hospitality. Wake up and enjoy fresh juices along with your delicious breakfast in the dining room or on an outdoor veranda as you prepare to embark on another day in this magical landscape.
Camping Safari
As an alternative to indoor lodging, consider a camping safari. Sleep beneath the stars as man kind has here for tens of thousands of years. Immerse yourself in the sounds of nature, the fresh air and scent of a breeze that has traveled over miles of the "endless" grasslands of the Tanzanian plains.
Enjoy the luxury of semi-permanent tented camps that are located on your safari route. No crawling into tents here! Sleep on a real bed, take a hot shower, write your emails on the veranda. Let us do all of the work for you, just arrive and enjoy!
Back-packer style camping in our own tents is a great way that students and other budget travelers can afford a safari adventure. We will set up camp along your safari route and enjoy the simplicity of comfortable tented camping like you never have before!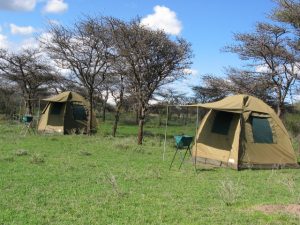 While camping, you will enjoy our chef's finest cuisine prepared in an outdoor, tented kitchen. Fresh fruits and a hearty breakfast are served in the comfort of your camp before setting out on the day's adventures. As always, meals are an important factor in the enjoyment of your experience. We aim to please the western palate with an East African flare. You will not be disappointed.
Recent Posts
Categories
Check out our Instagram Page at troaa_adventures for recent photos!😎 ... See MoreSee Less
3 weeks ago ·
6 years ago today, SUNY Oswego's Going Global group was heading home after a successful summit with 23 students and faculty and some other adventures post-Kilimanjaro! Each day we were waiting for news of the baby waiting to be born back home and on this day she arrived! - Happy 6th birthday to Sabina! What other adventures have you been up to Oswego Going Global Mehran Nojan? ... See MoreSee Less
3 months ago ·