Travel is such a practical way to enhance the educational experience.
Student groups that travel with us to Tanzania are exposed to a way of life that many have not experienced before. Spending time in a developing country allows students to see the way most of the world's people actually live, a day to day existence with little material wealth but a wealth of culture and simple pleasures. A group journey overseas and a Kilimanjaro climb are also excellent team building experiences.
Eye opening and inspirational, student travel can compliment many educational focuses: business, language, literature, cultural studies. In Tanzania we also have the opportunity to share the history of some of the most important archaeological discoveries in the world, those of the earliest human remains by Dr. Louis Leakey at the Olduvai Gorge in the Serengeti.
Combined with the immersion in geology and biology that a Kilimanjaro Climb and Safari affords, a Tanzanian student excursion is a wealth of educational opportunity.
We make student travel affordable and always make the safety of our guests as our number one priority.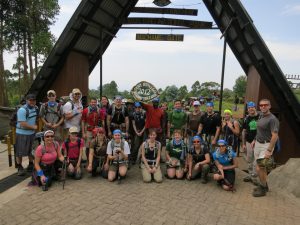 Recent Posts
Categories
Check out our Instagram Page at troaa_adventures for recent photos!😎 ... See MoreSee Less
3 weeks ago ·
6 years ago today, SUNY Oswego's Going Global group was heading home after a successful summit with 23 students and faculty and some other adventures post-Kilimanjaro! Each day we were waiting for news of the baby waiting to be born back home and on this day she arrived! - Happy 6th birthday to Sabina! What other adventures have you been up to Oswego Going Global Mehran Nojan? ... See MoreSee Less
3 months ago ·